Steam railways are 200 years old this year, and some lines are still going strong in the modern age, writes Jeremy Head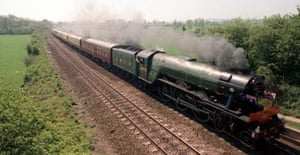 Strathspey Railway
This lovely old line in the Highlands runs between Aviemore and Broomhill. The views of the Cairngorms are stunning.
For kids: Thomas the Tank Engine visits May 29-31 and August 14 and 22.
For parents: Dine on board in the restored restaurant car – Sunday lunch on the Strathspey Clansman (£16) or evening meals on the Strathspey Highlander (Wednesdays in summer £26). Booking essential.
Tickets to ride: A Rover ticket which lets you break your journey at any station costs £9 adults, £4.50 children, families £22.50.
Further information: 01479 810725, strathspeyrailway.co.uk.
Getting there: Aviemore is off the A9 on the way to Inverness from Perth. Direct interchange with BR services at Aviemore.
North York Moors Railway
Restored locomotives steam 18 miles through the moors from the market town of Pickering to the railway village of Grosmont.
For kids: Thomas and friends, September 11/12.
For parents: The Victorian weekend, the Murder Mystery Pullman and Music on the Moors. Luxury diner services in the Orient Express restaurant car cost £40.
Tickets to ride: Rover tickets £12.50/£6.30/from £26.
Further information: 01751 472508, nymr.demon.co.uk.
Getting there: Pickering is north from York via the A64 and A169. Grosmont is off the A169 south of Whitby.
Ffestiniog Railway
Wales's finest narrow-gauge line makes its steep, twisting ascent through Snowdonia National Park from Porthmadog to the old slate mines at Blaenau Festiniog.
For kids: Young Jones the Steams can get their hands dirty during kids' week August 7-13.
For parents:'Be a train driver' sessions available for trainee stokers and drivers.
Tickets to ride: Adult rover tickets cost £14, one child under 16 travels free with each adult (otherwise half price).
Further information: 01766 516024, festrail.co.uk.
Getting there: Porthmadog is an hour's drive south of Caernarfon on the A487. There's a rail connection with BR at Minffordd.
Severn Valley Railway
This pretty 16-mile ride follows the meandering course of the river between Kidderminster in Worcestershire and the old market town of Bridgnorth in Shropshire. A highlight is crossing the Victoria bridge, a massive 200ft single span.
For kids: TTTE visits on September 4, 5, 11 and 12.
For parents: 1940s weekends, the Severn Valley in bloom weekend and the steam gala take place during the summer. Sunday lunch is served in the restaurant car (£16.50, booking required) and a range of driving school options available.
Tickets to ride: Rover tickets £10.80/£5.40/£29.
Further information: 01299 403816, svr.co.uk
Getting there: Kidderminster is west of Birmingham on the A456. Rail connection with BR at Kidderminster.
West Somerset Railway
This line runs 20 miles along the Quantock Hills from Bishop's Lydeard to Minehead on the Bristol Channel coast stopping at 10 restored stations.
For kids: Thomas is here on July 3 and 4.
For parents: Chug along in time to a five-piece jazz band on June 19, July 17 and September 11.
Tickets to ride: Rover tickets £12 adults, £30 families.
Further information: 01643 704996, west-somerset-railway.co.uk.
Getting there: Bishop's Lydeard is four miles from Taunton, off the A358 road to Minehead. Bus connections (28A) run from Taunton station to Bishop's Lydeard.
Bluebell Railway
This beautifully restored line is often used as a film location. It re-opened in 1960 between Sheffield Park and Horsted Keynes and was extended to Kingscote in 1994.
For kids: Thomas takes over on June 19-20 and 26-27.
For parents: The 2004 Bluebell Music Festival (June 11-13) features local bands playing at Horsted Keynes station, with trains running to the event.
Tickets to ride: Rover tickets £9/£4.50/£25.
Further information: 01825 720800, bluebell-railway.co.uk.
Getting there: Sheffield Park Station is on the A275, East Grinstead to Lewes main road. Bus number 473 runs from East Grinstead station to the Bluebell station at Kingscote most days of the week.
Mid-Hants Railway
Known as the Watercress Line, because it transported vegetables from the countryside to London, it runs between Alresford and Alton in rural Hampshire. The steeply graded route means that large locomotives are the hallmark of the line.
For kids: Thomas the Tank chuffs into town August 7-15.
For parents: Watercress week celebrating the start of the watercress season culminates next weekend (May 29-30) with events at Ropley station and free watercress! Real ale trains, War on the Line weekends and footplate driving experiences take place over the summer.
Tickets to ride: Rover tickets £10/£5/£25.
Further information: 01962 733810, watercressline.co.uk.
Getting there: Alresford and Alton stations are signposted off the A31 Guildford to Winchester road. There's a mainline rail connection at Alton.
· All these lines run daily services in summer. Special events tickets usually cost more than standard fares quoted. For a full listing of the UK's 100-plus restored railways go to the Heritage Railways website at hra.gb.com.
· Railfest, a festival to mark the 200-year anniversary, takes place at the National Railway Museum at York May 29-June 6. For more on this and other anniversary events see rail200.com or call 01904 686204.